AiMM 2014 Participants & Projects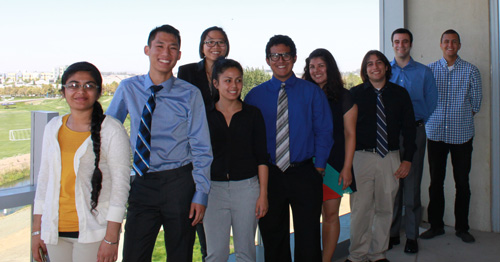 From left to right: Harmanpreet Panesar, Ryan Chung, Qianting Chen, Charlene Bwrede, Gustavo Cruz, Diana Esparza, Enrique Guerrero, Chad Drexler and Justin van Staden. (Samantha Bidwell not pictured.)
---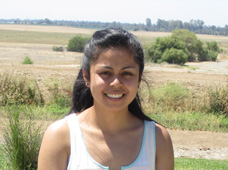 Charlene Bwrede
CSU Dominguez Hills
Computational Study of Phonons in nanocrystalline CdSe
Mentor: Prof. Anne Kelley (Chemistry)
The purpose of this study is to carry out computational simulations of the phonons in core-shell semiconductor nanocrystals CdSe/CdS. These simulations will provide insight into the actual atomic motion involved in the phonons. In order to find out how the atoms in these nanocrystals move, we first need to find out how they interact with each other by developing a force field. We used the Stillinger-Weber type force field for InAs published by Han and Bester [Phys. Rev. B 83, 174304 (2011)] as a starting point and refined its parameters to reproduce the phonons and other structural and mechanical properties of bulk CdSe and CdS crystals. Using the General Utility Lattice Program (GULP) and two Fortran programs written by Anne Kelley, we calculate the equilibrium structures, phonon frequencies and modes, and electron-phonon coupling strengths of spherical nanocrystals with CdSe cores and CdS shells. This information is used to help interpret the Raman spectra of these materials. These semiconductor nanocrystals are important because they can potentially be used for the conversion of light into energy (solar power), energy into light (LED), and light of one color into light of another color (cellular imaging).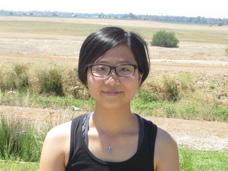 Qianting Chen
UC Merced
Understanding Fluid Mixing Using Topological Entropy
Mentor: Prof. Kevin Mitchell (Physics)
Chaotic fluid systems are generally difficult to understand, even in a 2-D space. Researchers are interested in developing a model to accurately predict the dynamics of a 2-D periodically driven system. A lid-driven cavity is a basic example that has been explored to quantify the chaotic mixing using the exponential growth rate of material lines. This growth rate is also known as topological entropy (TE). One motivation for studying the lid-driven cavity is that the flow can be modeled by a period-3 mixing protocol, which is the simplest mixing model with non-zero TE. The traditional method to compute TE numerically for such a simple system is still computationally expensive, due to high sensitivity to initial conditions. Grover et al. developed a method using braiding to estimate the lower bound on TE [Grover et al., "Topological chaos, braiding and bifurcation of almost-cyclic sets," Chaos 22, 043135 (2012)]. With the purpose of predicting the TE more accurately, we develop a technique called homotopic lobe dynamics (HLD). This technique uses information contained in the intersections of stable and unstable manifolds to predict long-term dynamics. Using a finite number of iterates of manifolds, we were able to calculate a more accurate lower bound of the TE. With additional topological information, the TE converges even more closely to the traditional calculation. Furthermore, we predict using enough iterates in HLD will give the exact TE.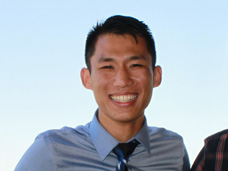 Ryan Chung
UCLA
Progress Towards Understanding the Mechanism of the Dysprosium(III) Triflate-Catalyzed Aza-Piancatelli Rearrangement
Mentor: Prof. Jason Hein (Chemistry)
First reported in 1976, the Piancatelli rearrangement of 2-furyl(alkyl)carbinols to trans-4-hydroxy-5-alkylcyclopentenones has proved to be a versatile tool in the synthesis of many important natural and biologically-relevant compounds that employ the cyclopentenone motif. Recent research has expanded upon Piancatelli's original work to allow for anilines, alcohols, and electron-rich aromatic amides to participate in the reaction. While it is known that the rearrangement can be catalyzed by Brønsted or Lewis acids, little is understood of the reaction kinetics and mechanism. Further insight, therefore, would allow for an improved catalytic system, broaden the list of compatible nucleophiles, and deconvolute the sequence of events within this deceptively simple transformation. Herein, we discuss our recent investigations on the dysprosium(III) triflate-catalyzed aza-Piancatelli rearrangement of 2-furyl(phenyl)carbinol and various aromatic amines using reaction progress kinetic analysis from data collected via in situ ReactIR measurements performed in concert with high-performance liquid chromatography/mass spectrometry (HPLC/MS).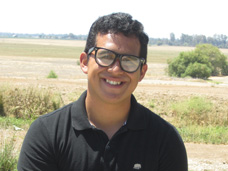 Gustavo Cruz
UC Merced
Solar Thermal Cooling in the Central Valley
Mentors: Bennett Widoylar, Lun Jiang, Prof. Roland Winston (Physics & Engineering)
There is work at UC Solar, located at UC Merced's Castle facility that is looking to advance the applications and efficiency of Solar Thermal technology. The goal of the project is to improve the cost and efficiency of the solar thermal technology with a focus on an operating temperature range of 100 - 300 degrees Celsius.
Solar energy is captured and utilized on site with external compound parabolic concentrators (XCPC) which are based on Dr. Winston's patented designs. The collectors are lined with reflective mirror film to concentrate light on an absorbing evacuated tube with a selective coating. The concentrators bypass the cost of a solar tracking system in that they do not require trackers to capture energy from the sun.
The thermal energy that is captured by the concentrators can be used for pre-heating purposes, high temperature industrial processes or for Air-Conditioning. The solar array at Castle is used to power a Double Effect Absorption Chiller which in turn provides air conditioning for a 12x60 foot trailer.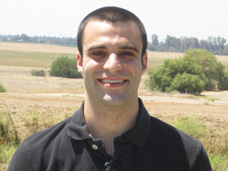 Chad Drexler
U North Florida
Single Molecule Detection of DNA: Precise Surfaces for Biosensing
Mentor: Prof. Tao Ye (Chemistry)
The detection of single DNA molecules on chemical films is of interest in the design and manufacture of nucleic acid sensors. A common challenge is that the performance of many of these biosensors is highly sensitive to the molecular scale structures of such surfaces, such as orientations and conformations of probe molecules. One approach to strictly regulate said chemistries is to employ a carboxyl terminated switchable surface technique which allows for recognition of single target molecules by complementary probe molecules to occur in a mobile conformation, and the transduction of hybridized structures in an immobile conformation. To optimize experimental conditions for this switchable surface, a deeper understanding of near-surface conformational dynamics is required. While atomic force microscopy has excellent spatial resolution and has allowed for single molecule images to be obtained, the millisecond time resolution of total internal reflection fluorescence microscopy (TIRF) can be utilized to probe the dynamics of these single DNA molecules on switchable surfaces. By solving Maxwell's equations for a region near a switchable surface, the enhancement factor, local electromagnetic fields and extinction spectra to be observed in a TIRF experiment were predicted.
Diana Esparza
Mt. St. Mary's College
Bovine Serum Albumin Increases the affinity of Lipid to Silica Bead
Mentors: Chai Lor, Prof. Jing Xu (Physics), Prof. Linda Hirst (Physics)
Since it has been recognized that lipids are vital for cellular functions such as pathway signaling, generation of ATP, and compose the plasma membrane in cells, there has been great interest in the synthesis of vesicles to study membrane properties and functions. Vesicles are composed of amphipathic phospholipids and they serve as cargo to transport biological materials from one region in the cell to another. We have investigated the efficiency of lipid coverage onto silica beads in various solvents. The lipid DOPC (1,2-Dioleoyl-sn-glycero-3-phosphatidylcholine) was coated onto pretreated silica beads via vesicle fusion. Both fluorescent microscopy and differential interference contrast microscopy (DIC) were used to analyze lipid coverage. Our findings indicate that bovine serum albumin (BSA) increases the affinity of lipids onto silica beads compared to casein. Also, the lipid-coated beads are stable after treatment with general tubulin buffer (PEM).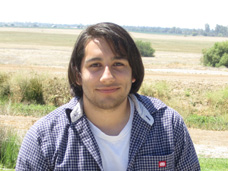 Enrique Guerrero
Humboldt State University
Winner of the AiMM 2014 Research Travel Award
Simulating a Gravitational Communications System
Mentor: Prof. Jay Sharping (Physics)
We present simulations of the signal generator for a gravitational communications system. The successful generation and detection of gravitational radiation would be profound in that it would confirm the existence of such radiation and validate the general theory of relativity. Moreover, a gravitational communication system would improve upon electromagnetic communications due to its ability to penetrate dense bodies such as the earth, sending a signal from one location on earth to another without the use of satellites. Crucial to this experiment is attaining resonant cavity with a high Q, a measurement of how purely our system resonates. Necessary Q values can and have been achieved using superconducting cavities. Because gravitational radiation is so weak, we propose to amplify it using a superconducting cavity. Simulations of the system are crucial to optimize cavity design parameters. Using COMSOL Multiphysics, we simulate a set of three resonant cavities to create and amplify a paired radio frequency (11 GHz) electromagnetic-gravitational wave and then shield away the electromagnetic component, leaving behind a gravitational signal. Coupling between gravitational and electromagnetic radiation is achieved via a membrane which is driven into motion by electromagnetic radiation pressure. The simulation is being conducted concurrently with preliminary cavity experiments.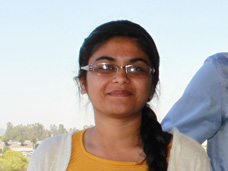 Harmanpreet Panesar
CSU Northridge
Role of Organic Ligands in Controlling Nanoparticle Behavior
Mentor: Prof. Jason Hein (Chemistry)
Metamaterials show potential to be used for improving lenses, telescopes, invisible cloaks, antennaes', etc. The challenge is to prevent precipitation and increase the stability of quantum dots that constitute the metamaterials. A recent study has identified a new organic ligand that is capable of both dispersing CdSe quantum dots in a liquid crystal host material as a stable colloid. In addition, this same ligand can guide the formation of micron-scale assemblies of quantum dots as stable micelles. This investigation aims to synthesize a new library of 16 organic ligands and test their ability to both disperse and direct the assembly of CdSe quantum dots in a liquid crystalline host. Each ligand is coupled to quantum dots via non-covalent interaction with the amine substituent. UV absorbance spectroscopy, polarized optical microscopy, photoluminescent scanning confocal microscopy, and X-ray diffraction are performed to analyze ligand and quantum dot interaction.
Justin van Staden
California Polytechnic State University
Role of Organic Ligands in Controlling Nanoparticle Behavior
Mentor: Prof. Erik Menke (Chemistry)
Poly(3,4-ethylenedioxythiophene) (PEDOT) is a conducting polymer commonly found as the active material in electrolytic capacitors, and is also used for flexible electronic devices and as the hole-conduction layer in organic photovoltaics. Contrary to most materials, the physical and electrical properties of PEDOT are heavily dependent on a number of factors, including morphology, oxidation level, doping level, and crystallinity, all of which are a function of various synthesis parameters such as synthesis temperature, synthesis method, and solvent. Although PEDOT is a highly researched material, there are no clear trends between between synthesis parameters and material properties. The goal of this project is to address this issue and correlate PEDOT nanowire properties with synthetic parameters. In additional, gold-PEDOT nanowires were synthesized to determine how a conductive core affects nanowire properties.
Lithographically patterned nanowire electrodeposition (LPNE) was used to synthesize these wires, which were later examined for the effects of different parameters; such as deposition voltage, deposition time, and nanowire size, on the electrical resistivity and the capacitance. The Raman spectra of the nanowires shows that the PEDOT oxidation state is independent of deposition voltage and time, while both the capacitance and electrical resistivity vary with deposition potential, deposition time, and nanowire size. We hypothesize that these differences are a result of variation in the PEDOT crystallinity and average chain length, and are currently working to test this hypothesis.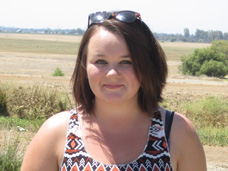 Samantha Bidwell
Grand Valley State University
Investigation of Copper Catalyzed Triazole Synthesis: A Computational Exploration
Mentor: Prof. Hrant Hratchian (Chemistry)
The development of transition metal catalysts for facilitating efficient and economical organic transformations is an active and critical area of chemical research. One such reaction is copper-catalyzed selective azide-alkyne cycloaddition. While this "click chemistry" reaction offers a number of attractive synthetic features, the governing reaction mechanism remains largely unknown. Using density functional theory, we have investigated an interesting potential mechanism recently posited in the literature. Our results dispute that proposed mechanism, and we have sought a possible alternative route that is consistent with a number of well-established and published experimental results. Samantha was fully funded by the Hratchian Group.