Home
Chemistry and Chemical Biology at UC Merced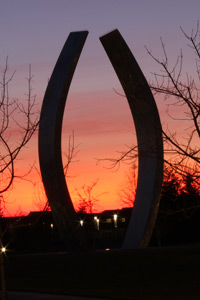 Located in California's San Joaquin Valley, UC Merced is the newest campus of the University of California system. With easy access to an array of California's well-known treasures such as Yosemite National Park, Sequoia National Park and Half Moon Bay, and renowned cities like San Francisco, San Jose and Sacramento, we are in an ideal location for both work and fun.
Our faculty members are committed to excellence in research and instruction, and have won a variety of awards at regional, national and international levels.
Our research programs are highly interdisciplinary, and range from studying how HIV targets cells and the chemical origins of life to visualizing chemical reactions and improving solar cell efficiencies.
Our faculty members are young, friendly and dedicated to fostering a climate of excellence and intellectual curiosity in which students can pursue their studies.
Whether you are a student, parent, faculty member or curious visitor, we hope you find what you are looking for. If you can't, or you have a question that isn't answered here, please contact us.
Latest news
October 2014 - Both Patti LiWang and Andy LiWang's research groups have recently received R01 grants from the NIH! The grant in Patti's group will be used to study the stability of proteins for preventing HIV in developing countries, where HIV inhibitors must be stored without refrigeration. The grant in Andy's group will be used to determine how the oscillator component of a biological circadian clock transmits timing signals. Congratulations!
September 2014 - Hrant Hratchian and a team of UCM computational faculty receive a Major Research Infrastructure grant from the National Science Foundation to fund a new campus high performance computing system.
August 2014 - Tao Ye's group receives at $510,000 grant from the National Science Foundation to investigate the self-assembly of DNA nanostructures using new single molecule techniques.
July 2014 - Welcome two new faculty specializing in organic synthesis and organometallic chemistry: Ryan Baxter and Ben Stokes. Ryan is setting up his lab now and Ben will be starting in January.
Research highlights
Jason Hein and Tao Ye recently published a paper on their collaboration trouble shooting organic reactions and studying the surface chemistry by AFM. 
Jason Hein's collaboration with physics professors Linda Hirst and Sayantani Ghosh examining quantum dots in liquid crystals is published for interesting photonic applications.
Erin Johnson and Jason Hein have shown that it is possible to computationally predict the relative solubility of homochiral vs heterochiral crystalline solids. Check out the results in Angewandte Chemie.
Andy LiWang's research on circadian clocks is featured in C&EN, PNAS, and Nature Reviews Microbiology.
Erin Johnson's Journal of Chemical Physics paper discussing a new density functional theory model for dispersion interactions is named an Editor's choice article.
Upcoming seminars
Chemistry seminars are held on Fridays, from 3:00 to 4:00 pm, in COB 267. Our seminars will resume after the summer starting on September 5.