Home
Chemistry and Chemical Biology at UC Merced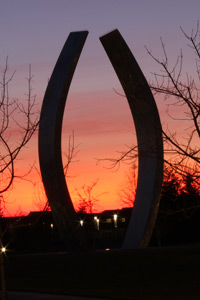 Located in California's San Joaquin Valley, UC Merced is the newest campus of the University of California system. With easy access to an array of California's well-known treasures such as Yosemite National Park, Sequoia National Park and Half Moon Bay, and renowned cities like San Francisco, San Jose and Sacramento, we are in an ideal location for both work and fun.
Our faculty members are committed to excellence in research and instruction, and have won a variety of awards at regional, national and international levels.
Our research programs are highly interdisciplinary, and range from studying how HIV targets cells and the chemical origins of life to visualizing chemical reactions and improving solar cell efficiencies.
Our faculty members are young, friendly and dedicated to fostering a climate of excellence and intellectual curiosity in which students can pursue their studies.
Whether you are a student, parent, faculty member or curious visitor, we hope you find what you are looking for. If you can't, or you have a question that isn't answered here, please contact us.
Latest news
January 2014 - We've started reviewing graduate student applications for fall 2014. Although it is after the formal deadline, we may have additional openings for qualified applicants. If you are interested in applying, email the Graduate Admissions Committee.
December 2013 - NSF research experience for undergraduates for "Applications in Modern Materials" is approved and will be starting this summer. Interested students should email aimmreu@ucmerced.edu for more info.
October 2013 - Computational chemist Christine Isborn wins ACS PRF award for "Quantum Mechanical Calculations of Large-Scale Explicit Solvation."
August 2013 - UC Merced's 10th birthday is discussed in C&EN.
Research highlights
Andy LiWang's research on circadian clocks is featured in C&EN, PNAS, and Nature Reviews Microbiology.
Erin Johnson's Journal of Chemical Physics paper discussing a new density functional theory model for dispersion interactions is named an Editor's choice article.
Eric Josephs and Tao Ye recently published a paper in Nano Letters probing the nature of DNA molecules on surfaces, and how the conformation of the strands depends on the applied electric field.
Upcoming seminars
Chemistry seminars are held on Fridays, from 2:30 to 3:30 pm, in COB 267. Our seminars will resume after the holidays starting on January 24th.