AiMM REU Program
Welcome to UC Merced's Applications in Modern Materials (AiMM) summer research experience for undergraduate students.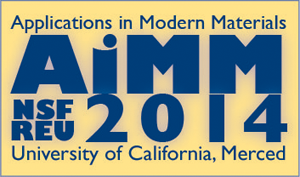 Join UC Merced in its first annual Research Experiences for Undergradutes Program: Applications on Modern Materials. As the tenth (and newest) campus of the University of California system, participant benefit from amazing resources in a close-knit community of diverse scholars. Take part in cutting-edge research with faculty and graduate student mentors. Seminars will illustrate the variety of research activities in modern materials. Participate in an annual Research Symposia at UC Merced and Lawrence Livermore National Laboratory. Workshops prepare you to use your summer research to take the next steps in your STEM career. Applicants must be U.S. Citizens or permanent residents currently in their sophomore, junior, or senior year. Underrepresented minorities,women, and veterans are especially encouraged to apply.
Program Details
Duration: 10 weeks (June 9th - August 15th, 2014)
Compensation: $5,000 stipend + housing, food, and travel
Application deadline: March 15th, 2014
Open to undergraduate students in a math, science, or engineering major
2014 Participating Faculty and Projects
To apply, send the completed application form, along with a copy of your most recent transcripts and two letters of recommendation, to aimmreu@ucmerced.edu.
Contact Information
Program directors: Dr. Carrie Menke and Dr. Jess Vickery
School of Natural Sciences
5200 N. Lake Rd
Merced, CA 95343
Email: aimmreu@ucmerced.edu
Phone: 209.228.3078 and 209.756.7264